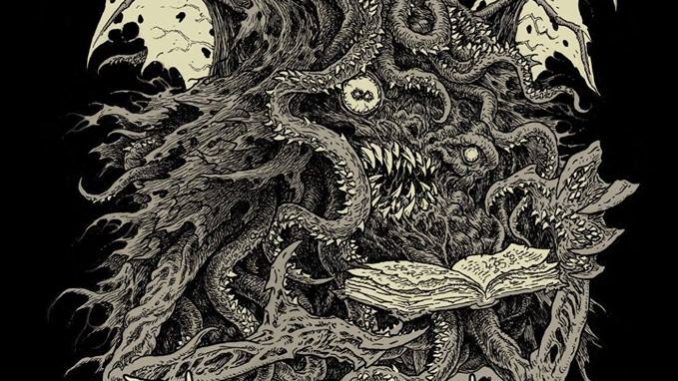 THE BLACK DAHLIA MURDER is currently on a North American co-headlining tour with WHITECHAPEL that runs through July 14. Through this North American tour, TBDM will be performing their latest LP Nightbringers front to back. The tour is also features Fleshgod Apocalypse, Aversions Crown, and Shadow Of Intent as support.
TBDM is an American death metal band from Waterford, Michigan, formed in 2001. The band is comprised of lead vocalist Trevor Strnad, rhythm guitarist Brian Eschbach, bassist Max Lavelle, drummer Alan Cassidy, and lead guitarist Brandon Ellis. Seven of the bands last eight studio albums have charted on the U.S. Billboard 200, with their fifth album Ritual peaking at No. 31 in 2011. THE BLACK DAHLIA MURDER is one of the most popular contemporary American extreme metal bands and their relentless touring has endeared them to fans globally.
Music Madness had a chance to catch up with Trevor of THE BLACK DAHLIA MURDER in New Orleans in between sound check and show time.
Music Madness: So you guys are in New Orleans tonight and are wrapping up this tour with Whitechapel here in the next few weeks, and then it looks like you guys are off to Europe.
Trevor: Yeah, we still have Texas to come too, so some brutalities could still happen, but the shows have been awesome, so I can't complain.
It's the end of the summer festivals we're doing, but we still have plenty on our plate after that. Australia and Japan were just announced, there's even more US runs that we're talking about I think around December. It's been a while since we've been out to Japan as a band though, so I'm pretty excited about that.
Music Madness: Sounds like the band is staying busy.
Trevor: Yeah. Definitely, man. South America's in the works, and yep, just staying plenty busy.
Music Madness: Very cool. Now, on this particular tour, you have been playing your latest LP, Nightbringers, front to back. Is that something unique to this tour or will it continue on these upcoming runs as well?
Trevor: I don't think so, but I imagine that it will be a very Nightbringers heavy set for sure.
Music Madness: How does your eight release Nightbringers differ from your previous work? How has the band evolved in that timeframe from beginning to this past release?
Trevor: I think that it has the most variety of any album that we've done, and that's always what we're striving for is to be more various. Some death metal records are static, 'cause they're just all the same, you know what I mean? Even though we're a fast band, we try to mix it up as much as we can. I think this is definitely the most variety we've had song-to-song. The songs have the strongest individual identity. I think that as we've gotten older, I think that the music is a bit more emotive than it's been. So that's definitely something that draws people in, you know. That's the goal.
Music Madness: Absolutely. That change of pace is nice, and a little something different every time you get out there.
Trevor: Right, it's kinda like straddling a line. We wanna stay the same band that we've been since the onset, but we also want to keep the fans coming back and keep ourselves interested doing new ideas, trying new technical stuff, and it's definitely more demanding material than anything else we've played. It's more work, but I guess we're just kinda sadomasochistic in that way. You know what I mean.
Music Madness: Absolutely.
Trevor: It's more satisfying to play the songs, you know.
Music Madness: The band has made an in-house change bringing in Brandon. How has that gone?
Trevor: Yeah, that's been awesome. He was really instrumental in making the album as great as it was. He stepped right in, took the reins, and wrote a good handful of songs for the album. Four of the nine. So that was a really pleasant surprise. And yeah, just his touch is kinda felt everywhere throughout the album, his lead playing is incredible. It's been really exciting to have him in the band. So we're looking forward to whatever we're gonna do in the future.
Music Madness: It's always a bonus when it's a nice, smooth transition. I mean, I know that's not always the case.
Trevor: Yeah, that was in part to Ryan Knight that stepped down. He told us so far in advance, like a year and a half ahead of when he was actually leaving, so we'd be able to do this seamlessly. And he's the one that selected Brandon. So pretty much everything about the transition was as smooth as it could be for what it was. So that was nice.
Music Madness: Right on. What's been the big crowd pleaser on this run? What are the fans getting into as far as some of your new songs?
Trevor: I have to say the title track is the one, man. People really get into that song. Lots of jumping up and down, which is cool. I enjoy crowd participation a lot. And also, "Kings of the Nightworld" has been a hit. I think that's probably my favorite live track. The verses just sound so awesome, man, live. I get pumped up there myself hearing it, so. I hope it works on the crowd too in that way. It seems to.
Music Madness: I heard the St. Pete show had some great numbers and the crowd was lively, an intense crowd from start to finish.
Trevor: That was cool. That was a good show, man. And I think my favorites have been New York … Detroit was actually really good. That's our home show, but it's not always that good. So it was pretty wild. And where else did I like? Atlanta was amazing too.
Music Madness: Describe TBDM's sound to someone that might not be familiar with it.
Trevor: I would say that Black Dahlia Murder is a melodic death metal band that combines thrash, death metal, and black metal into a sort of melting pot. And it's high energy, blood pumping music for total freaks.
Music Madness: At this time is TBDM strictly touring or are you working on any new music?
Trevor: We haven't started writing the next record yet, but I imagine that this should be winding up around wintertime, I think, the entire tour cycle for us, this album. So then, we'll be back to the laboratory.
Music Madness: Right on, man. I know you had a late sound check today. Enjoy the rest of your tour, and have a blast in Japan and Australia, man.
Trevor: Cool, man. Thanks a lot, dude. I really appreciate the press.
Interview by Steve Carlos