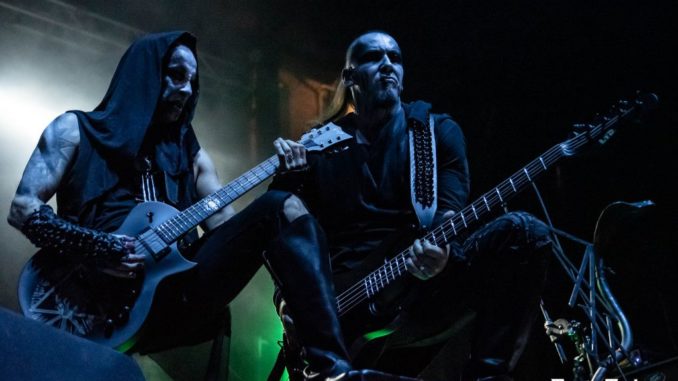 BEHEMOTH, the Polish extreme black metal band, have returned to North America for their long-anticipated headlining tour with a supporting cast of At The Gates and Wolves In The Throne Room. The band is on tour in support of their I Loved You At Your Darkest full-length album, released earlier this month via Metal Blade Records. The new record was produced by the band, mixed by Matt Hyde (Slayer, Children of Bodom), and mastered by Tom Baker (Nine Inch Nails, Marilyn Manson). The LP also includes a 17-piece Polish orchestra arranged by Jan Stoklosa.
Behemoth continues to make its presence felt throughout the metal community and that continued Saturday evening at Jannus Live in St. Petersburg, FL. The band's sound defined by appealing death metal riffs, Nergal's powerful vocals that brings to life those poetic lyrics, topped off by some riveting drumming seemed to invigorate and send the crowd into a frenzy.
The band's 14 song set included five songs from its latest release I Loved You At Your Darkest as well as songs from previous records Evangelion, Demigod, Satanica, and The Satanist.
Behemoth's recently released album, I Loved You At Your Darkest, has made an instant impact on the US charts reaching #2 on Independent Albums, #3 on Hard Music Albums, #8 on Rock Albums, #16 on Digital Albums, and #19 on the Top 200 Current Albums.
The band's current line-up includes Adam "Nergal" Darski (guitars, vocals), Zbigniew Robert "Inferno" Promiński (drums, percussion), Tomasz "Orion" Wróblewski (bass), and Patryk Dominik "Seth" Sztyber (guitar).
Behemoth Set List:
Wolves ov Siberia
Daimonos
Ora Pro Nobis Lucifer
Bartzabel
Ov Fire and the Void
God = Dog
Conquer All
Ecclesia Diabolica Catholica
Decade of Therion
Blow Your Trumpets Gabriel
Slaves Shall Serve
Chant for Eschaton 2000
Lucifer
We Are the Next 1000 Years
Check Behemoth out:
http://behemoth.pl
http://www.facebook.com/behemoth
http://www.instagram.com/behemothofficial
http://www.nuclearblast.de/behemoth
http://www.metalblade.com/behemoth
At The Gates, a Swedish death metal band formed in 1990 from Gothenburg has joined Behemoth on this North American tour. The band released To Drink from the Night Itself, its sixth studio album earlier this year via Century Media. The album was the first to feature new guitarist Jonas Stålhammar, who replaced co-founding guitarist Anders Björler. The other members include Tomas Lindberg (vocals), Jonas Björler (bass), Adrian Erlandsson (drums), and Martin Larsson (guitars).
At The Gates vocalist, Tomas Lindberg, led an inspired attack on crowd, fists pumping high in the air as they delivered an inspired 11-song set that only included two songs from the band's latest release. Definitely, a great complement to the headliner, Behemoth.
At The Gates Set List:
To Drink From the Night Itself
Slaughter of the Soul
At War With Reality
A Stare Bound in Stone
Cold
Death and the Labyrinth
Heroes and Tombs
Suicide Nation
The Book of Sand (The Abomination)
Blinded by Fear
The Night Eternal
Check out At The Gates:
http://open.spotify.com/artist/6YXarbjg36ODFPez0PnOlD
https://twitter.com/atthegatesgbg
https://www.instagram.com/atthegates_official/
https://www.youtube.com/user/atthegatesofficial
Photos and review by Steve Carlos