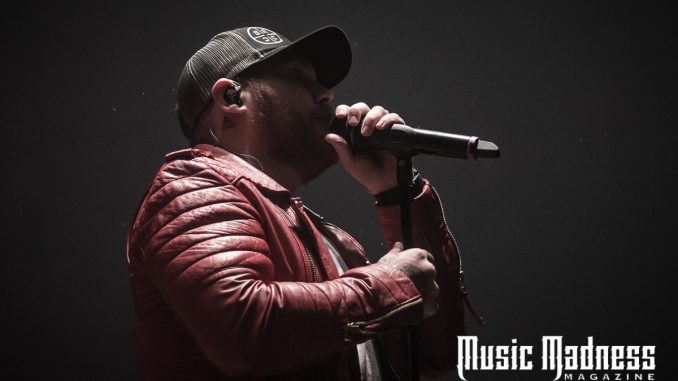 It's been four long years since Asking Alexandria has been back in Southwest Florida. The last time they rocked Southwest Florida was with thousands of metal fans at Fort Rock.
Luckily, for the locals Shinedown brought them along for the ride as the opening act for the Attention Attention Tour. Typically opening acts suffer from the lack of early audience participation. This was not the case this evening at Hertz Arena, as the crowd showed up early and quickly entered the venue to see they guys put on a high octane show.
On December 15th Asking Alexandria posted up the "Vultures" video to celebrate their one year anniversary of their self titled album. You can see it here: smarturl.it/AskingAlexandria
There has been a buzz surrounding the band of late as Cam Liddell has recently been endorsed by Kiesel Custom Guitars and the CAM6 has been released. AA will be playing at Rock Fest, Rocklahoma, as well as additional shows with Shinedown and Papa Roach followed by tour dates with Breaking Benjamin.
Be sure to follow them on all the social media outlets and check their event calendar to see when they will be near you!!
Band Members: Ben Bruce – Guitar, Cameron Liddell – Guitar, Sam Bettley – Bass, James Cassells – Drums, Danny Worsnop – Vocals
Hertz Arena is the home of Florida Everblades hockey and offers a wide variety of entertainment throughout the year. They have hosted NHL, NBA, USBL, and Arena football games as well as Stars on Ice, Disney On Ice, WWE, Jeff Dunham, Boston Pops and Lord of the Dance. There have been many major concerts, including Cher, Elton John, Alan Jackson, Guns 'N Roses, Def Leppard, Sting, Keith Urban, Eric Church, Zac Brown Band, and Toby Keith just to name a few. For more information on Hertz Arena or to see their upcoming schedule please visit www.hertzarena.com.
Connect with Asking Alexandria:
Facebook: @askingalexandria
Instagram: @askingalexandria
Twitter: @aaofficial